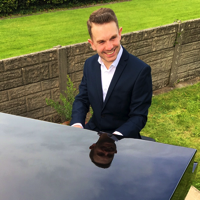 Is an original composition the perfect gift with which to celebrate your grandparents' golden wedding anniversary? Maybe you require a rousing anthem to open your college graduation ceremony? Perhaps you'd like some romantic piano to ripple away as wedding music when you make your entrance? Or is some subtle underscoring for your original theatre piece what you're after? Craig Smith prides himself in providing you with exactly the mood that your event requires through his compositions.
Craig is an experienced composer and arranger based in Preston, Lancashire. He specialises in musical theatre and bespoke one-off compositions for special events such as weddings. Hi work has been heard all over the country.
Of course, a composer never stops learning, but the majority of his training was at the world-famous LIPA, where composition and arranging made up a large percentage of his first class honours degree in music and he received tutelage from some of the country's finest composer / arrangers and songwriters. To read more about Craig, please see the biography page.
Justice for Michael Documentary Craig was recently commissioned to write a score for this film; have a listen on our soundcloud!
Craig graduated from the world-famous Liverpool Institute for Performing Arts with a First Class Honours degree in 2007. A large part of this degree was in composition and arranging, at the time specialising as a composer in musical theatre.
Since then, he has received several commissions as a composer and arranger in theatre and for films and documentaries, with the most recent commission a documentary, music from which can be heard below (other demos and references are available on request). These include an offer of work on films in the US. Craig turned down a move to the US, but UK composition commissions still form part of his portfolio of work as a freelance professional musician.
As a composer, Craig now specialises in small compositions for special events and occasions such as birthdays, parties, weddings and funerals, working closely with the family or organisers to embody their ideas in his music. The majority of such composition commissions are for solo piano, but others have ranged from pieces for solo cello through to brass orchestra and modern jazz bands.
Other areas in which Craig composes are original theatre, and music for film, documentaries etc. Craig's compositions are available for film makers to license from Craig Smith Music as self-published work; original music composed for projects will remain the property of Craig Smith Music but be licensed to the film company, like licensing from a publisher. Sample licensing agreements are available on request.
Having a special composition written just for you obviously involves a lot of communication with the composer. Each commission works differently, but all have four similarities:
Guide Material: Most commissioners have a style, composer or even a already existent piece of music in mind. These are almost always used by the composer as 'guide material' when composing your music. Such material will help us to understand what you are aiming for.
Instrumentation: The next consideration is the instrument or instruments you wish to use. This may be determined by the guide material, but more often than not is more specific to the event. People quite often have in mind a certain musician, instrument or band for their wedding, for example, and theatre music compositions are often limited by either the space in the theatre, or the combination of instruments already being used in the show.
Discussion: The final third of the circle is completed when discussing the event. It's of paramount importance that your composer understands the mood that needs to be created, so tell us as much as possible about the occasion for which we're writing: the people involved, the building it's in, the story of the show or the story of the people the piece is intended as a gift for. How long should the composition be? Are there any themes?
Relaxation: In the knowledge that you know exactly what style of music is being written, for which instruments, and that it's being written with all of the background to the occasion in mind, all you need do now is relax and wait to hear the finished piece.
Arrangements are not original compositions, but are rewritten versions of an already existing piece of music or song. It is possible for a good arranger to arrange practically any style of music and instrumentation into any other style with totally different instruments. Examples of arrangements carried out by Craig include a guitar trio version of Pachelbel's Canon in D, a score of a well-known musical theatre piece reduced to five instruments (saving the producers the fees for eight further musicians), and even a smooth jazz version of an American stadium rock track.
Since there is no time required first to write the piece of music, it is often a cheaper option to hire an arranger than having an original piece written. One romantic soul recently asked for a version of his fiancée's favourite Michael Bublé song to be included as a surprise addition to the set of the string quartet they had booked; he couldn't stretch to having an original composition written for her, but if anything using her favourite song was perhaps an even better option!
Although Craig is not himself a songwriter, he has enjoyed successful collaborations with lyricists on previous projects in several styles and genres. Some of the songwriters with whom Craig has worked are award winning and have some of the very top training around. They can, of course, be called upon to be involved in your project, but would be commissioned separately under their own name.
If you are interested in commissioning a composition or arrangement for your event or occasion, please don't hesitate to get in touch. The more time we have to discuss your needs and to complete the process, the better the finished product will be. Be sure to include any guide material and specifics as listed above in the 'Commissioning a Composition' section. These will help us to give you an accurate quote.
If there are any questions you'd like to ask, please do. All of the contact details can be found below.
Experience gained as a composer and arranger from training under top-class names in composition and arranging, with a First Class Honours degree in music from a top performing arts institution.
Based in Preston, Lancashire, and available to the entire North West and throughout the UK.
Audio compositions available as a licensed master, or score-only compositions available to a world-wide market.
Successful history as a composer and arranger for theatre music, musical theatre shows and film/documentary music composition.
Small one-off commissions for occasions such as weddings and similar celebrations are a speciality.
Craig composes to your requirements, using your ideas and suggestions, and discussions about the history behind your event, not simply the event itself.
All types of composition catered for: styles from classical through jazz to rock, all instruments from solo piano to ensembles like brass or string orchestras and pop bands
Unique arrangements of favourite songs available to suit the mood of your event; perhaps your future mother-in-law feels your favourite heavy metal track be better played by a string quartet on your big day!
Past collaborations with award-winning songwriters mean they can be easily brought on-board for your project.