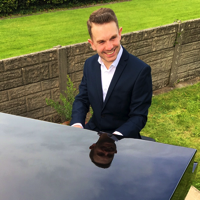 Craig Smith, based in Preston, Lancashire, is an experienced musical director working in professional musical theatre and live music entertainment. At 29, he has already worked on more musical theatre shows than can be counted on one man's fingers and toes, across the range of styles from original pieces, to 20s/30s musicals to more modern works like Lucky Stiff and favourites like Jesus Christ Superstar and Fame. In recent years, his specialism has moved more towards live music entertainment in theatres, such as his recent roles as MD on The Opera Boys UK Tour and the Gary Barlow Live Tribute Show.
Craig has a large number of top-level session musicians within his contacts, and several young and hungry student musicians looking to break into the world of session musicianship, so is able to work to any budgets. As well as professional companies and theatres, past and current clients include Preston College and ATG Theatres' Creative Learning project. He has worked across the country as a music director in theatre and for live bands in pop, soul and RnB, playing keyboards and/or conducting.
Craig is also available as a pit musician on piano, keyboards, synthesiser, Hammond and percussion, with top-spec industry-standard instruments.
Justice for Michael Documentary Craig was recently commissioned to write a score for this film; have a listen on our soundcloud!
Craig graduated from the world-famous Liverpool Institute for Performing Arts with a First Class Honours degree in 2007. A large part of this degree was musical direction, being assessed on professional theatre jobs (both on well-known shows and originals for which he also composed the score) and his work as MD for then RnB-soul singer Hannah-Rei (who was then holder of the MBF Songwriter of the Year award, voted for by Guy Chambers and Cathy Dennis!).
He was originally accepted onto the exclusive and much sought-after LIPA music course on the back of his musical directing, which he had been doing since the age of 17 at home in Preston, first working as AMD on Fame before taking control of The Return to the Forbidden Planet.
In recent years, the majority of Craig's musical direction roles have been in musical concert style entertainment products for theatres and similar venues, rather than in musical theatre. These roles see him arranging for and directing the live bands, and on some products the vocals, for musical entertainment evenings, usually touring the UK.
Recent roles have included the musical director role on Contempo Productions' Opera Boys UK Tour and The Gary Barlow Live Tribute Show (which achieved credit from Mr Barlow's real MD and musicians for it's accuracy), and a production and/or musical supervision role on Soundsmiths Promotions Ltd's Adelation (a night of the music of Adele) and Simply70s: Ultimate Classic Rock products.
Craig has worked on a multitude of theatre shows during his career, professional, amateur and educational. He is as happy holding the baton as he is directing from the piano. As well as revue performances, just some of the scores on which he has worked include:
A Complete and Utter History of Liverpool 1207-2007 (Abridged)
American Clock
Chess
Fame
Footloose
Godspell
Grease
Jesus Christ Superstar
Les Miserables
Little Shop of Horrors
Lucky Stiff
Nunsense
Return to the Forbidden Planet
Sweet Charity
West Side Story
Craig is available to arrange scores for theatre to reduce the number of musicians required or to simplify scores for young performers, for example. He also composes for theatre, and often MDs the shows he writes on.
As well as theatre, Craig has developed a reputation as on of the go-to men for directing live bands in various environments. Past clients have been function singers looking for a live band to replace backing tracks, and artist management who need a live band to perform with their singers for record label showcases.
Craig is able to quickly work with his session musicians to emulate the sound of a recording while giving the performance that all-important live feel, allowing new artists to demonstrate their songwriting ability and their performance quality. Typically, the band will be ready within one rehearsal, and the singer comes on board for the second rehearsal to add his/her vocals. That is usually all that is required for a showcase or live gig, although more rehearsals can be accommodated if necessary.
If you are interested in talking to Craig about MDing your next project, please contact him through the details on this website with as much detail as possible to ensure an accurate quote.
If there are any questions you'd like to ask, please do. All of the contact details can be found below.